Staff Answer

Aug 28, 2019 - 10:45 AM
The easiest way to do this is to group the items together.
Select the sticker and the text object on the page.
Go to the Options menu and choose Group.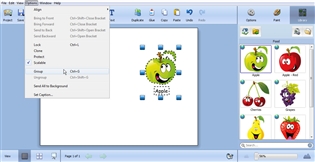 The items will now move together on the page.
If this is part of a template or activity for students you may also want to uncheck the Scale option so that the objects will stay the same size.
You can find out more about making your own Activities here:
https://www.tech4learning.com/pixie/r...
Note: In this case you would not use the Glue button on the toolbar since that would send the text and sticker to the paint layer.