Staff Answer

Dec 03, 2018 - 06:26 AM
I tested Pixie 2.166.10 on an iPad running iOS 12.1 and I was able to record sounds and send images to the Camera Roll.
For the Sound recording issue, I would check Settings/Privacy/Microphone - and make sure that Pixie is enabled.
This should also be the same for access to the Camera Roll - Settings/Privacy/Photos/ - make sure that Pixie is enabled.
The setting for the Pixie app to access the Camera (you mention in #2) is to allow Pixie access to the camera on the device.
I am not sure why Pixie does not show up in Settings/Privacy/Photos. You might try deleting the app and then reinstalling. Then when you try to send an image ot the Camera Roll, you should be prompted to Allow Access.
You will also be prompted the first time you try to use the Microphone or Camera after re-installing.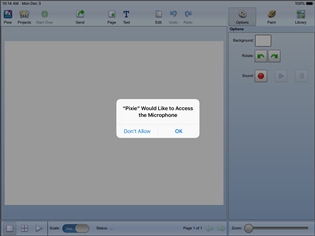 Please open a support ticket if this does not resolve your issue and we can gather some additional information from you.