Staff Answer

Apr 05, 2018 - 10:36 AM
You can use the Pixie INI file to register Pixie 4 for all users that log in to your computer.
Here are the steps:
1. Log in as a local administrator on your computer.
2. Click the Start button and type: Notepad
3. Right-click the Notepad application and choose Run as Administrator from the list that appears.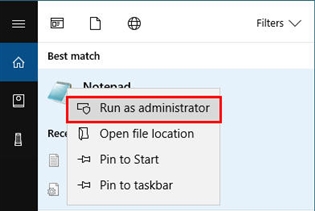 4. You will see the User Account Control dialog - Click "Yes" to allow Notepad access. You may need to enter your Admin password depending on your account permissions.
5. After notepad opens, go to the file menu and choose Open. Use the file type pull-down menu to choose - All files (*.*)
6. Navigate to the Pixie 4 folder - this will be either:
C:\Program Files\Tech4Learning\Pixie 4\
C:\Program Files (x86)\Tech4Learning\Pixie 4\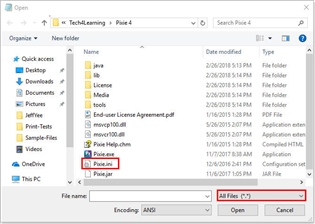 7. Open the file - Pixie.ini
8. Remove the # symbol from the front of the registration line
9. Replace the XXXXXX-XXXXXX-XXXXXX with your registration code (no space after the = symbol)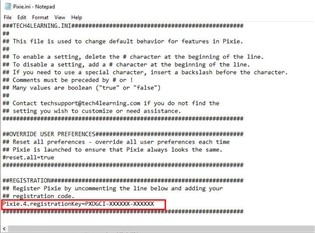 10. Save the file
11. Launch Pixie to see if you're prompted for a registration code. If you're prompted, then you may have a typo in the registration code or you left the comment symbol (#) at the front of the registration line.
12. You can now push the Pixie.ini file to your other computers using your preferred deployment method.
You can follow the same steps for Frames 6 or Share 4 - the files you will modify will be Frames.INI and Share.INI respectively. The same steps apply to Windows 7 and Windows 8 users.
Short URL for this article -
https://goo.gl/fWcdfD
Some other articles that may be helpful -
Register for all users on OS X
Earlier versions of Pixie or Frames