Staff Answer

Jan 12, 2018 - 06:34 AM
Yes, the feature can be turned off in the Admin portal under Settings. If you are at a district, you can change the setting for individual schools. Just go to the Accounts page and look up the School admin login in the Schools view.
To turn off collaboration for your school or district:
Log on as the school or district admin where you want to turn off the Collaboration feature.
Go to the Settings page.
You will see a checkbox for Real Time collaboration in the Sharing Projects section.
Uncheck the Enable real-time collaboration with teams checkbox.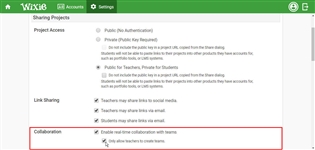 Once the setting is changed, Team projects will revert to the person that created them.
You also have the option to allow only teachers to create team projects. Click the checkbox "Only allow teachers to create teams" to use that option. (*both boxes checked)
Note: This is a global setting. The setting will affect the entire school or district once the change is made. The feature can not be turned on for specific classes or users.
Short URL for this article -
https://goo.gl/SGzTN1