Staff Answer

Jan 04, 2018 - 03:09 AM
When you click the Capture button on the Toolbar, you will see a Change Settings button on the Camera options panel.
Click the Change Settings button to see the Video Source dialog.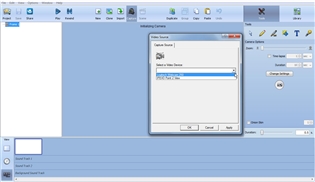 Use the pull-down menu under Select a Video Device to choose your camera.
You may need to go to the camera manufacturer's website to make sure you have the most current drivers for your operating system.
In some cases, you may need to disable the internal camera in the System control panel. Or, you can put the internal camera in use by another program such as Skype so that it is not available to Frames.
If neither of these suggestions work for you, please open a support ticket and we can gather some additional information from you.