Staff Answer

Mar 31, 2017 - 04:08 AM
When you take a picture using the camera in Pixie, or if you add a picture from your desktop, it is treated as a sticker - an object on top of the paint layer.
You can glue the sticker to the page to draw on it or modify it.
While the image is selected, click the Glue button on the toolbar.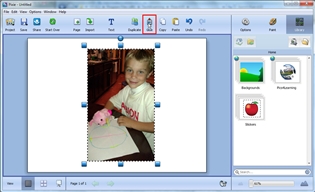 After you glue the sticker to the page, you can use the paint tools to modify or draw on the picture.
You can even turn the selection back into a sticker as shown in this article
here
.