Staff Answer

Jan 24, 2017 - 03:00 AM
Currently, Frames is localized in English, Spanish and French. Unfortunately, we do not have a Portuguese option at this time.
To change the language that Frames is displayed in:
- Open the Preferences
- On Windows, go to the Edit menu and choose Preferences. On Mac, go to the Frames menu and choose Preferences.
- Select the General tab if another is selected
- Choose the language you want to display Pixie in - English, Spanish, French and click OK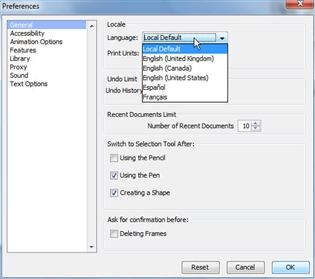 This setting will take effect immediately. This is a per-user setting.
This is similar to this
answer
for Pixie.
I will pass this suggestion along to the development team.