Staff Answer

Dec 09, 2016 - 05:19 AM
If you have already put in some users, but now need to add more users, you can do this by adding to a CSV that you export from Wixie.
You can do this manually or via your CSV. I will show how to do this via a CSV, but you can also add users manually as shown in this
video
.
Log on to your Wixie Admin account and go to the Accounts page. Scroll down to Download the current user data from your school or district. Download the data for the entire organization. Click the Download button to save the file to your computer. Save the file to your computer before opening it.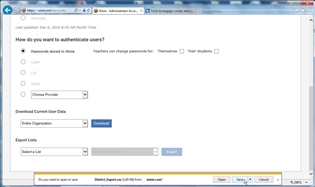 If you are in Chrome, clicking the Download button will save the file to your default download folder.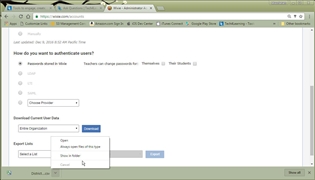 Click the button to open the exported Wixie User CSV. You will see the file opened in your default Spreadsheet application such as Microsoft Excel.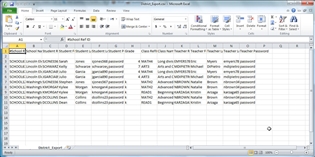 Go to the bottom of the file and paste/add your new users. You will need to fill in all of the columns.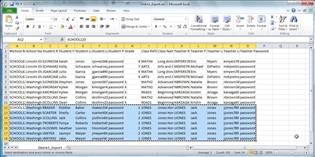 Be sure to save the changes.
You can now upload and process your modified CSV file.
Short URL for this article -
https://goo.gl/a9MWRO
If you are using Google or your LDAP server to authenticate, then you can leave the password field blank as described
here
.
If you want to add a teacher to all classes, you can do that in your CSV as explained
here
.
If you want to add a teacher to all classes after you have uploaded your CSV, you can follow the instructions
here
.
If you made a mistake and uploaded a CSV that did not contain all users, you can find instructions on restoring users
here
.