Staff Answer

Apr 27, 2016 - 11:05 AM
If you have uploaded a CSV, then you will not see the Manual controls to edit or Add new users.
To change your account management, log on as your school or district manager.
Click the Accounts tab.
In the Section "How do you want to manage user accounts?", check the Manually radio button. (1)(2)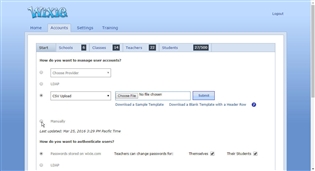 You will be promted to confirm this change. Click Yes.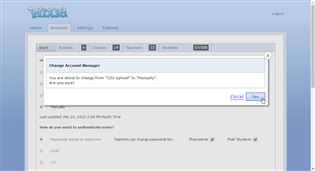 Now, when you go to the Classes, Teachers, or Student Views, you will see an Add button to add new users or classes.
Fill in the Red boxes with the required information. For a student, you will need: Reference ID (RefID), First Name, Last Name, Username, *Password, School (if you are at a district), Grade, and Class assignment. Click the Submit button when you are finished.

*If your school is set to use Google, LDAP, or LTI to obtain the password, then this is an optional field.
If you want to Edit a user, select the user and click the Actions button. Click Edit to edit that user.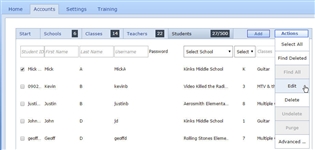 Click the Submit button when you are finished making changes.
Notes: (1) If your account is set to use Engrade, Gaggle, or another provider to manage accounts, then we DO NOT RECOMMEND that you switch to Manual user management. Wixie will update the accounts nightly using the information provided from your management system. New users or class changes should occur automatically if they have been entered into your user management system.
(2) If your school is not set to self-manage at the district, then you will not be able to make the change. You will see an Alert message on the page letting you know the account is managed at the district.

Short URL for this article -
http://goo.gl/n0z1F9
Other articles regarding Wixie user management:
CSV did not contain all users
Add a Student to a Class
Logging in when your school or district is set to Google Authentication.
No changes were made to a school after uploading a CSV