Staff Answer

Mar 11, 2016 - 10:52 AM
Yes, if you change the timing for your pages, you can increase the time they are shown for up to 10 seconds.
On the main page, click the Storyboard View button (4 squares) to see the Slideshow options.
Move the Timing slider to the right to increase the time a page shows.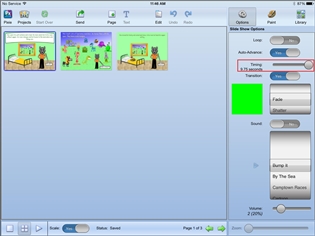 You can also tap the page while the Slideshow is playing. This will show a Pause button that will allow you to pause the playback.