Staff Answer

Nov 10, 2015 - 09:47 AM
Because memory and file managment is limited on the iPad, this can't be done in the Pixie app on the iPad.
However, you can use the Pixie 3 or Pixie 4 desktop software to combine your Pixie projects from the iPad.
You will need the latest version of Pixie 3 - Pixie 3.1, if you are using Pixie 3.
In Pixie 3, click the Project button and choose Import Pages.
In Pixie 4, go to the File menu and choose Import Pages
Select the project you want to import and click the Import button.
You will see the page chooser if the proeject contains more than one page.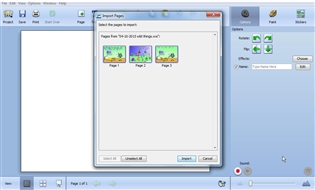 If the project only contains one page, the page will be imported into the project immediately.
After you have all of your projects imported, you can export them as HTML, a PDF or Movie file.