Staff Answer

Oct 27, 2015 - 02:46 PM
You can Glue a sticker to the page in Wixie or Pixie and then paint or modify the glued sticker. This can then be converted back to a sticker and pasted on top of a student or teacher's picture.
I will show how to do this in Wixie and Pixie.
Steps:
1. Make a new Wixie project
2. On the first page, you can use a web-cam to take your picture. Or, you can use the paint tools to draw your portrait.
3. Make a new page by clicking the Page button
4. I wanted to use a Skull, so I searched the Clip Art library for a skull.
5. Add the sticker you want to use for your mask to the page. Use the size handles to make the sticker larger if needed.
6. Go to the Edit menu and choose Glue to Paint Layer *If you are in Pixie, click the Glue button on the toolbar.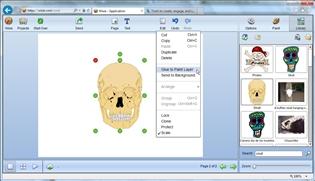 7. Click the Paint tab and select the Eraser tool. Erase the parts where you want the other picture to show through. In my case, the eye sockets.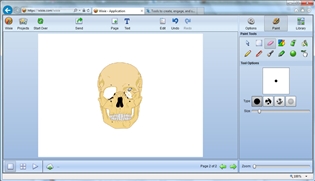 8. You can use the other paint tools to add color or details to your mask.
9. When your picture is ready, use the Lasso Selection tool to select your image on the page.
10. Go to the Edit menu and choose Conver to Scicker. *If you are in Pixie, go to the Options menu and choose Convert to Sticker.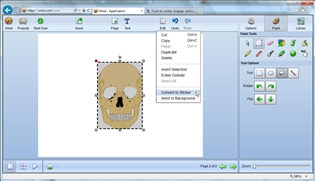 11. Copy your image.
12. Move to page 1 where you took your picture or painted your portrait.
13. Paste your sticker on top of the image and resize it so that the mask fits the way you want.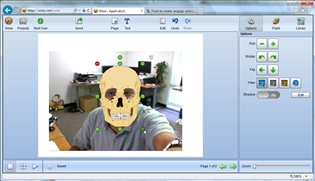 If you want to continue painting, you can glue both images to the page.
Have fun!
Short URL for this article -
http://goo.gl/Zq1oD5