Staff Answer

Sep 01, 2015 - 10:56 AM
If you downloaded Pixie 4, or another desktop application from Tech4Learning, you may see a message indicating that the application installer can't be opened because it was not downloaded from the Mac App Store.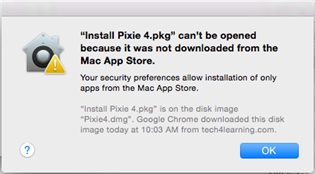 You can change the Security and Privacy settings to allow the application to be installed.
- Log on as a local administrator
- Click the Apple menu and choose System Preferences
- Open the Security & Privacy control panel
- Click the Lock to make changes and enter your password if prompted
- Under "Allow apps downloaded from:", choose Mac App Store and identified developers.
- You may see a prompt regarding the Pixie 4 (or other Tech4Learning installer), click the Open Anyway button.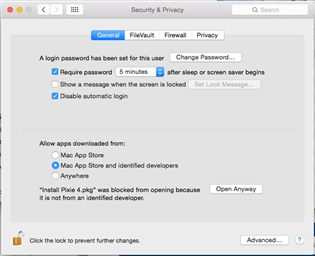 After you've made this change, you should be able to install Pixie 4 by double-clicking the package installer.
Short URL for this article -
http://goo.gl/uXhteI