Staff Answer

Jun 19, 2015 - 08:19 AM
After you've installed the trial version of our software, you can click the "Try It" button for 30 days without needing a registration code. There is no limitation on the software during the 30-day trial period.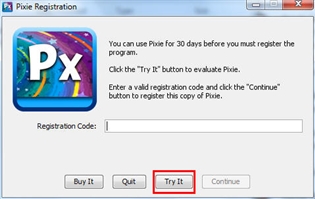 If you'd like to purchase the sofware during or after the 30-day evaluation is expired, you can purchase it by clicking the "Buy It" button or by contacting customer service at:
(877) 834-5453 or (619) 563-5348 or via email at - orders@tech4learning.com
Note: If you purchase the software from PayPal after the trial has expired, you will need to Uninstall the software prior to installing the software purchased via PayPal. See
this article
.