Answers

May 21, 2015 - 11:44 AM
Sometimes, students will accidently choose to Delete projects rather than open them. This may happen with younger learners.
To check for any deleted projects:
- Log on as the student that can't find their project
- Click the Wixie button and choose Home
- On the bottom of the Student Home page you will see a list of deleted projects
- Click the Restore button to restore any previously deleted projects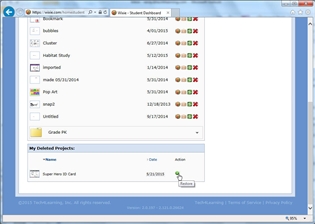 Short URL for this article -
http://goo.gl/UArJ6t
---

May 21, 2015 - 12:01 PM
If you are using shared devices, it is also possible that students may have been working in the wrong account.
If this is the case, I've outlined the process for moving Wixie projects between accounts
here
.