Staff Answer

Feb 18, 2015 - 08:50 AM
If you are able to see some computers using the Share feature in Pixie, Share or Frames then you may not be using the same version of the software.
If you are using Pixie 4 on some computers and Pixie 3 on other computers, then the shared projects will only show for users using the same version of ths software -
Pixie 4 & Pixie 4 OR Pixie 3 & Pixie 3.
If some computers are using a point-release update, then the Share feature may only show users with the same version.
For example, if one computer has Pixie 3.06 and another computer has Pixie 3.1, then you may not be able to see shared projects between these versions.
To find your specific version -
On OS X go to the Pixie menu, or on Windows go to the Help menu, and choose About Pixie
You will see the specific version in the left side of the About dialog.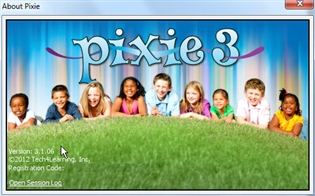 If you are unable to see any computers, then the issue may be related to your network. You can find an article on collaboration requirements
here
.
Short URL for this article:
http://goo.gl/CC5gDH
Source: