Answers

Feb 10, 2015 - 08:00 AM
If you have taken your own photos, you can add them into your project from the Library panel.

No matter which Tech4Learning tool you are using, click the
Folder
button in the top right corner of the Library panel to open a dialog that will let you navigate your computer to find the images you have taken.
If the image is still on your camera, connect the camera to the computer and it should mount as a drive you can browse.
If you have saved files to a Google Drive, you can also navigate this cloud storage, provided you have mounted your Google Drive on your computer.
Once you choose Open, the file will be added to page or frame.
---

Feb 10, 2015 - 08:12 AM
If you are using Tech4Learning software tools that are installed on your computer, like Pixie, Frames, and Share, you can also add folders from your computer to the Library panel.
To add a folder to your Library panel, open the Program Preferences (Edit menu on Windows, and application (like Frames) menu on a Mac).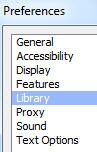 Click Library in the list. The Preferences dialog will show you options for the Library.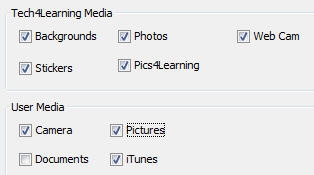 If you have a unique log in to your computer, you can store everything in your Pictures or Documents folder. Then, check the boxes for these folders in the User Media area to have them appear in the Library panel.
A word of caution here, if your My Documents folder is huge like mine, I would suggest connecting to the Pictures folder since it can take a while for the Library to read and display all of the data.


You can also choose to have the Library display a specific folder. Click the Add button in the Added Libraries area, navigate to the folder and open. Click OK to save the preferences.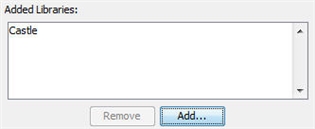 You will see this folder at the top level of the Library panel.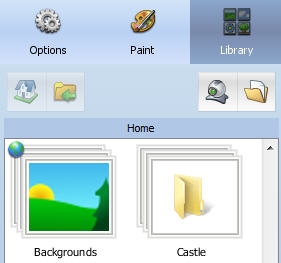 Enjoy!
---

Feb 10, 2015 - 08:21 AM
If you have taken some really great photos, consider submitting them to
Pics4Learning.com
!

This site is a collaborative effort where amateur and professional photographers can share their work for use in education.
The collection has over 35,000 images and you can browse this great image library from within the Library panel in
Wixie
,
Pixie
,
Frames
, and
Share
!

When you use the Search field at the bottom of the Library panel, the applications will also search Pics4Learning.com for matching results!

You can contribute your photos to Pics4Learning at:
http://www.pics4learning.com/upload.php
When you complete the fields during upload, be sure to include keywords you can use to find your picture in teh collection. Pics4Learning images are moderated, so if you contribute, it may take a couple of days before the image appears in the collection.
*Pics4Learning images are copyright-friendly, which means if you contribute, you must agree to their blanket use in education for no compensation. Pics4Learning does not allow images with recognizable faces.