Answers

Jan 12, 2015 - 08:10 AM
The stickers are working just fine, they are just at a different level, due to the addition of Backgrounds. (I am guessing you didn't see the news about the
Wixie update in December 2014
!)
The update fulfills the many requests we received from Wixie users who had used the Backgrounds when they worked previously in Pixie.
In order to integrate the Backgrounds into Wixie, the Stickers panel changed to a Library panel.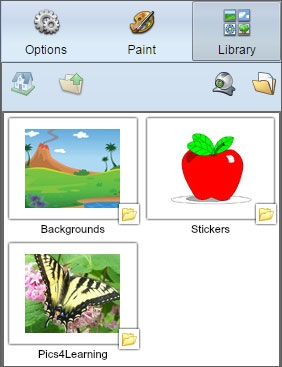 Click the Stickers folder (apple image) to see the entire Stickers library!
If you want to add a Background to the page, open that folder, and/or subfolders, find the background you want to use and click the image to add it to the background layer of your page (behind any painting, stickers, and text objects).
You can also more easily find and use images from Pics4Learning.com using that folder at the top level of the library.
Announcements about Wixie updates are on the teacher dashboard when you log in to Wixie. If you would like to receive update information by email, you can subscribe to the Wixie News blog at:
http://web.tech4learning.com/wixie-news