Staff Answer

Jan 07, 2015 - 12:00 PM
If you create an MOV file in Frames 4 or Frames 5, Windows may choose Windows Media Player to play back the movie. However, the sounds may not play back or may play back poorly.
If you play the movie back in QuickTime Player, you should hear the sounds as you added them in Frames.
Right-click the movie that you created and choose Open With. From the menu that appears, you can choose QuickTime Player.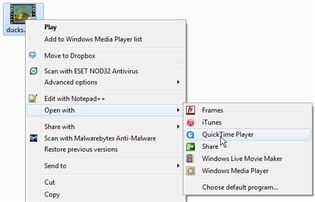 You can also set the default by selecting Choose Default Program...
Short URL for this article:
http://goo.gl/v32m66