Staff Answer

Dec 18, 2014 - 12:51 PM
You can make folded cards in both Wixie and Pixie by creating a multiple page project and then using the booklet option to print and fold your card.
My answer will focus on Wixie, but the steps are the same in Pixie 3 or Pixie 4.
To create your card:
1. Log on to Wixie as a student
2. Create a new Wixie project
3. If you want a Portrait card, click the Rotate button on the Page options panel to make a page that is taller than it is wide.
4. Add any images and text that you want on the cover of your card
5. Click the new Page button twice so you have 3 pages in your project
6. On page 3, add any text or images that you want on the inside of your card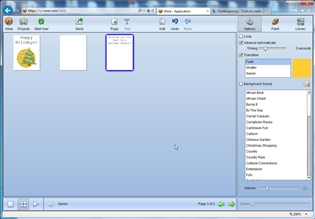 7. Click the Send button, select Print, and choose Booklet.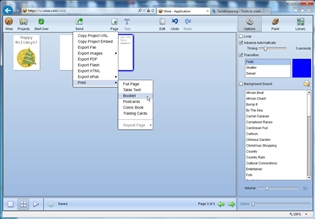 After your page has printed, fold it in half. Then, fold it in half again to create your card.
Short URL for this article:
http://goo.gl/CU72H4