Answers

Nov 20, 2014 - 08:40 AM
Great question, Aspen. I am guessing you are asking because, you tried to use the Paint Bucket tool to fill an area of color on a sticker and it didn't work! Painted artwork and stickers work differently in Wixie (and Pixie). Paint tools work on the paint layer and stickers float above that layer.
Imagine a room with walls painted yellow and clock hanging on it. If you change the color of the room from yellow to blue, you don't actually change the color of the clock. The clock is like a sticker, hanging in front of the paint.
However, that doesn't mean you can't achieve your goal of modifying the sticker color!
When you want to change the color of a sticker, first make sure it is selected and exactly where you want it. (In this example, the propellor hat is a sticker on my painted artwork).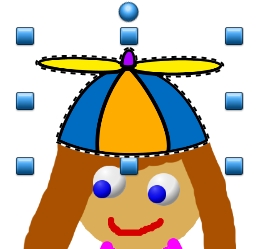 Click the Glue button on the toolbar to "glue" the sticker to the paint layer.

Click the Paint button to use the tools on the Paint panel to change its design.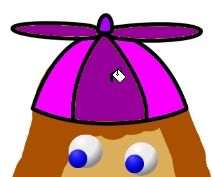 Good luck!
Note: The sticker is no longer a sticker at this point, but painted artwork. So if you want to move it, you need to use the Selection tools on the Paint panel.